Welcome to the

Certified ICF Installer Network

Locate a Certified ICF Installer

Become a Certified ICF Installer

Obtain a Prompt ICF Job Estimate

And learn why…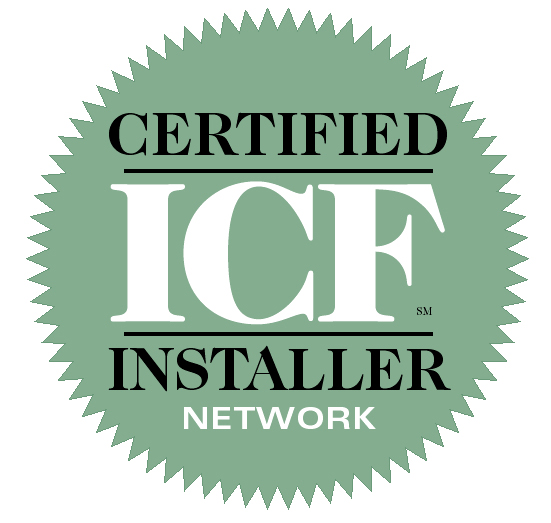 Always Insist on a Certified ICF Installer

Concrete is inherently complicated. When you

add to concrete a dimension called Insulated Concrete Forms (ICFs), and a proper,  professional installation requires even greater

care, knowledge, expertise, and supervision.

However, the payoff is well worth the investment in highly-trained and certified installers… because when installed properly, ICFs offer numerous short-term and long-term benefits to the homeowner… beginning with a quieter, more secure home and ending with reduced year-round energy costs.

About Certified ICF Installer Network

The Certified ICF Installer Network is a national network of ICF installers and suppliers who practice and adhere to strict standards and guidelines in quality control, safety, and competency in all aspects of running their ICF businesses and in their installation practices.

Because experienced and certified installers of Insulating Concrete Forms (ICFs) are a homeowner's and builder's "best friend" when it comes to ICFs, our primary involvement with our installer members is to train and certify them.  This training, along with our ongoing certification process, assures you and your builder that your ICF installation will be in accord with today's best ICF practices.

Builders

Certified ICF Installer Network has the ability and resources to help you select the ICF installers who have successfully completed their certification process, and to assemble multiple ICF crews for larger projects.

Don't begin any ICF project, large or small, without contacting us first.  For more information -- and a prompt estimate on any residential or commercial job ---
call us toll-free at 888.PRO.ICFBid
(888-776-4232) and ask for Jim Fitch (residential) or Joe Palmero (commercial) or email us
ProICFBid@CertifiedICF.com
.
For a brief overview of ICF technology, request our Builder Packet.  Many builders find it a helpful orientation prior to contracting their first ICF job.

Locate A Certified ICF Installer

To locate a member of the Certified ICF Installer Network, call 888-776-4232 or send an email to
Locate@CertifiedICF.com
.
Please provide 1) your complete contact information including name, company name, and phone number, 2) the general geographic location of the job (e.g., Chicago, Charlotte, etc.), 3) if your building project is residential or commercial, and 4) the best time for us to contact you. One of our senior staff coordinators will contact you as soon as possible.

Become A Certified ICF Installer

To learn how you can become a member of the Certified ICF Installer Network and to register your availability to work on various ICF projects we procure, please send an email to
Register@CertifiedICF.com
. 
You'll receive a brief fax-back questionnaire via auto responder. The questionnaire asks you to tell us about you and your firm, a brief company history as it pertains to ICFs, geographic areas you prefer to serve, scope and scale of projects, and the brands of ICF with which you are most familiar.

Training

Certified ICF Installer Network trains the professionals and experts who install all popular brands of ICFs including Amvic, Arxx, Build Block, Eco, Integra, Logix, Nudura, Polysteel, Reward and others. 

In addition to seminars, workshops, and ongoing training, Certified ICF Installer Network is available to train and supervise your ICF crews on the job. Contact us to learn more about our various certification programs and/or to request information about upcoming seminars and workshops.

* "The Ultimate Builder Upgrade" is a service mark of Certified ICF Installer Network. © 2006 Certified ICF Installer Network

Learn about the benefits of ICF on residential homes online at